32bit Email Broadcaster
Awards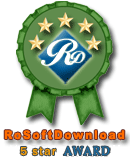 ---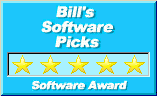 32bit Email Broadcaster
Updates
Notification that recipient opened email message

Click [Edit], [Add&Extra Lines to Header - Create/View/Edit/Add Xheaders.txt] and add your email address and name. Be sure to use this format:
name@domain.com (your name)
This should be the last entry in the file. Do not add any white space to the right of this line and do not press [enter] or add a caries-return.

---
SMTP-Port

Override the SMTP port-25 with any valid port.

32bit Email Broadcaster
Testimonials
During the last two weeks I have tried several email broadcasting systems. Some were almost impossible to set up, or didn't have the neccessary tools that I wanted, or poor manual or help support, or just plain didn't work as advertised. 32bit Email Broadcaster is great! It's easy to set up, has everything needed and for the two questions I had - quick, courteous, and thorough response. I quickly paid the LOW price, its well worth it. Thanks for everything Jon and Bill!
---
I would like to convey to you my feelings about your product, 32bit Email Broadcaster. because I am a consultant, I have tried many, many email broadcasting programs. I happened upon yours in a moment of frustration, and have found it to be the best email broadcaster program that I have found. Now 32bit Email Broadcaster with Silent Mail is the only program that myself and my wife use to send out our newsletters and update notices. I have found it to be very user-friendly and efficient. Kudos to ElectraSoft.
---
Jon, Thank you for assisting me with the 32bit Email Broadcaster with Silent Mail. It's seldom these days to find someone that will go that extra mile and give customers the personal attention that you did with me.

Warmest Regards,
Joe Sager

---
I have to say I am impressed and happy with the renewed dedication and commitment you have shown with 32bit Email Broadcaster with Silent Mail! You are really doing a great job improving upon my experience...I already loved your product, but now it is becoming something I could not do without. Great job! Thanks Jon!

Jason Hogrefe
Summitsoft Corporation
32bit Email Broadcaster reviews:
This email broadcasting software program makes sending newsletters easy. ElectraSoft 32bit Email Broadcaster software try before you buy reviews:
SoftSea editor said...
Email marketing is gaining hype incessantly, primarily due to its massive yet personalized reach. However, sending such emails to a large number of email addresses manually results in utter frustration and monotony as well as wastage of your precious time. Well, don't just sit bearing the troubles, and go for an effective solution for sending mass email. Now, you might have started browsing through websites to get such a solution. Well you don't need to take that stress, as you can simply try out 32bit Email Broadcaster for the purpose. The program is an effective marketing solution for businesses, which allows sending emails to any number of recipients. It's an appropriate tool for broadcasting email newsletters, advertising, client notifications, etc.

The 32bit Email Broadcaster integrates an intuitive interface, which though seems cluttered but includes easily-usable features. To begin sending emails you've to define some required configurations. First, you've to specify the project name, followed by filling up the From Name and From Email Address fields. Moving forward, enter the outgoing Email Subject, and select the Email Message File as body text from a txt, html, or htm format files. In addition, you can insert/edit/merge fields, browse msg, view msg, edit msg, and attach files, or you can even create/select/view/edit attachments list files. After setting the message body and attachments you can move to attaching addresses list by easy browsing, which can even be viewed and edited to requirement. Next in line is the option to Send e-mail regular by using SMTP, MX, or MX & SMTP; where you can even set SMTP settings, and even set features for Send email silent. Finally, press Send Email in effect to which the program begins sending emails. The sending process can anytime be paused, continued, or aborted, along with which the program displays Event Monitor and Last/Current Event.

32bit Email Broadcaster program makes it a child's play for you to send mass emails to the list of large number of recipients. The utility comprises of simple features and gives a wonderful performance.

---

An easy way to send mass e-mails...
Turn your computer into a bulk emailer, and broadcast email newsletters and email messages to your clients in the background while you work on other things in the foreground - while you just relax.

You will be emailing your email newsletters and email messages to thousands of groups and organizations in a few minutes from now with this full featured email newsletter system.

---

FileForum review...
32bit Email Broadcaster is a very powerful five-star marketing tool for you and your business. Use it for e-mailing your own created messages to a list of e-mail addresses. Broadcast e-mail news letters, clients notifications, advertising, and more. Send an e-mail to one recipient or thousands, or even millions. When you Broadcast a batch of e-mail, you will not have CC or advertising headers added to your message.

---

Read these testimonials...