Refurbished ProFire PF2100F Flare Ignition System
This Refurbished ProFire PF2100F Flare Ignition System includes the ProFire2100 Terminal Card v1.7, ProFire2100 Door Card v1.7, and the PF2100 Data Logging Card v2.4.
FOR SALE
Refurbished ProFire PF2100F
$700.00
Click here to make arraignments to buy this ProFire PF2100F Flare Ignition System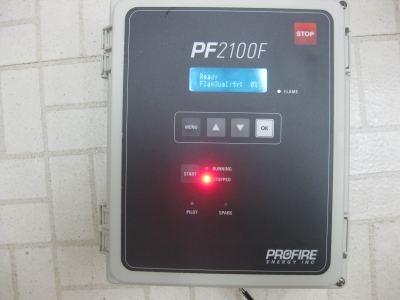 Front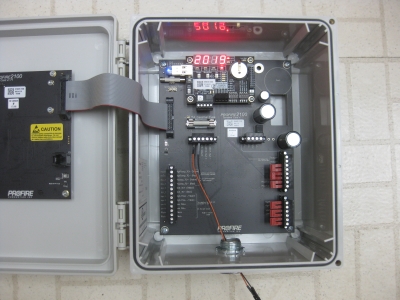 Inside
Includes...
Data Logger:
o Monitor and record oilfield applications Including...
o Monitors BMS status registers including inputs, outputs, and internal state information.
o Remote starting and stopping of the BMS.
o Allows remote set point adjustment.
o Periodically records all status information to a local USB Memory stick.

Flare Ignition System:
o Intuitive and Clear Programming Menus.
o 12V or 24V.
o Low Power Consumption.

On Demand or Fixed Interval Spark Option Using:
o Flame Detection.
o Thermocouple.
o Ionization.
o Optional Modbus RS485 communication.
o Optional High Temperature Shutdown.
o Pilot solenoid control.
o Programmable set-points for Alarm and Temperature.
o Designed and tested to operate over a wide range of ambient temperatures (-40°C to +65°C).
o Class 1 Division 2, NEMA 4X enclosure.
o See overview description below for details regarding additional zoning capability.

An External Ignition Coil is not included. If you need a coil, I can sell you one.

If you are intrested in buying this Refurbished ProFire Igniter,  [Send a message to Jon Krahmer at ElectraSoft] 
Copyright © 2009 Flare Stack Fabrication by ElectraSoft. All rights reserved.